There are 5 ways that can be used to register a vaccine.You can register vaccine via MySejahtera app, through website, hotline, going to clinic or hospital and home visits that cariied out bby volunteer.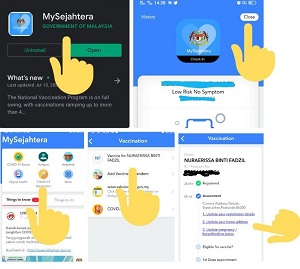 1. The section for vaccine registration is now available on the MySejahtera app-make sure your app is updated to the latest version on the App Store or Google Play. While it was launched on IOS first, it is now available for Android user.

2. Once you have updated the app, relaunch the MySejahtera app and you should be able to see a 'COIVID-19 Vaccination' button on the home screen. Tap on the button and make sure your personal details such as name,IC,phone number are accurate.

3. Once your details are verified, you will be lead to this frame. Click on the 'click here' link to complete your registration by filling up a form with 4 simple yes/no questions. Once you finish filling up the question, you will be notified when the next phase of vaccination begins which is the details about the vaccinationn centre and dates assigned will be sent to you via the MySejahtera app, phone call or text.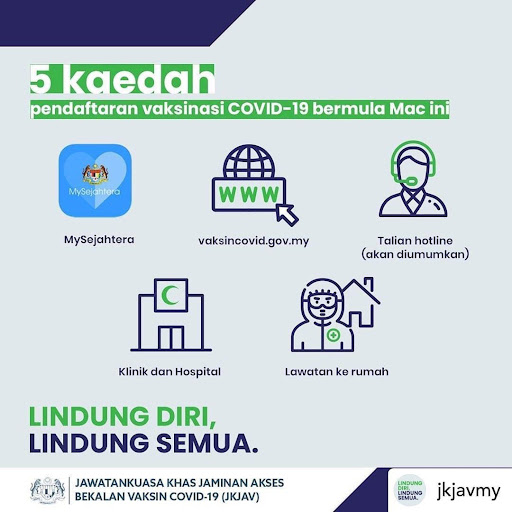 While signing up via the MySejahtera is the easiest and fastest way, you can alos register your consent via other platform. Here are 4 other ways you can register for vaccine.

1. Go to COVID-19 JKAV website and click 'register now' to complete your registration-you will receive your confirmation within 24 hours if your registration goes through successfully.

2. Ring up the registration hotline: 1800-888-828 and you will be required to provide your personal details such as name,IC,phone number and email address>

3. Manual registration at hospitals and clinic.

4. Door to door registration as it is iniatiative to reach out people that live in rural area.